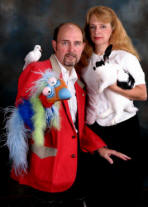 We entertain:
Corporate
Parties
Country Clubs
Service Clubs
Conventions
Banquets
Churches
Schools
Scouts
Bookings:
(865) 210-6181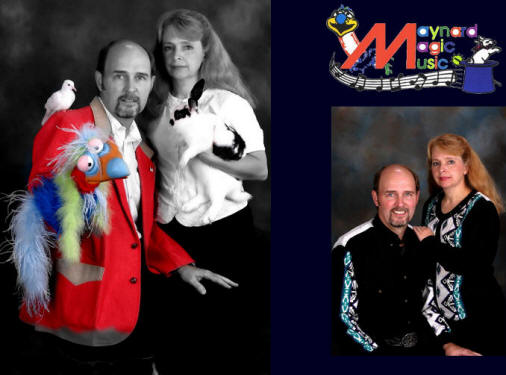 Here are some testimonies of those who have used our services:
August 2012

Dear Steve:

Thank you for your participation in our 2012 Reading Program at the Mary E. Tippitt Memorial Library. The youngsters appreciated the magic and comedy. Laughter is so musical when it comes to children. You have helped make smiles on the youngsters faces and helped us to show them that reading can be fun.

Sincerely,

Judy Walters, Acting Director.
Dear Steve: I want to tell you how much we appreciated your Magic, Music and Maynard show that you gave for our children's Christmas party. I have never seen the children more thoroughly entertained. You held them spell bound. The particularly enjoyed Maynard, he was the best part! It was hard to tell who enjoyed your show the most - the adults or the children. Thank you for your interest in our organization. East Alabama Shrine Club sponsors 28 local children who have been badly burned or crippled. We look forward to securing your talent in future functions of our club.

Sincerely yours,

Barbara A. Swift, President, East Alabama Ladies Club.
Ohatchee High School
Just wanted to say "THANKS" for your great performances. You have a unique style in the way you mixed your music, magic, ventriliquism and comedy together. Your show is very entertaining and educational. I appreciate the way you maintained discipline throughout the show. I would highly recommend you to anyone that is looking for good quality entertainment.
Thanks again!
Jerry Ellard - Principal
From Channel ABC 33/40 Meteorologist James Spann
I highly recommend Steve Burgess and his program, "Maynard, Magic and Music." Steve has created a family oriented Christian program that young and old can enjoy. Steve has performed in our home church, First Baptist Church of Alabaster, and the program was well received. I have also enjoyed seeing him perform on "Cousin Cliff" and enjoyed even more watching the smiles on the faces of the children.
Visit James's website: http://www.jamesspann.com/js/
From The Late Cousin Cliff Holman
Steve Burgess is funny! What an entertainer! He stole the show with his magic and ventriloquism. Steve and Maynard are great! What fun for every age. I Highly recommend them for any occasion. Steve Burgess is a natural! You must see his pal "Maynard" Steve sings, does magic and is a very good comedian too. Book him soon! He is always a hit on my TV show and the kids and adults love him! You will too!
Read More about Cliff: http://www.birminghamrewound.com/features/kidvid_cuzcliff.htm
Dear Steve:
Thanks for bringing Maynard to our Museum Day festivities and for entertaining our guests at the Gazebo. Our guests enjoyed the quality entertainment you provided. We appreciate you working with us on this venture which brought over 3,000 people to the Museum, in spite of the heat! Again, thank you for your part in the success of this "best ever" Museum Day.
Sincerely, Bradley T. Page, Community Services Coordinator.